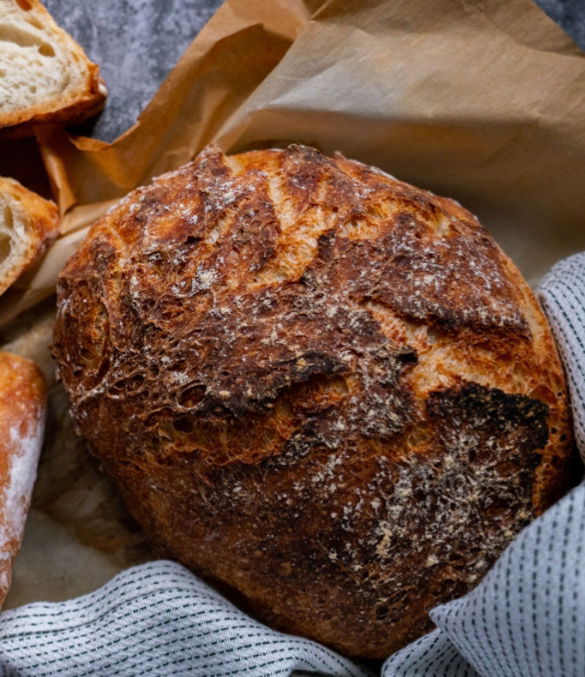 This easy vegan no-knead bread recipe uses 3 simple ingredients with water and can be made into a gluten-free or whole wheat no knead bread.

3 cups (427g) all-purpose or bread flour of choice

¼ tsp (0.8g) dry active yeast

1 ¼ tsp (3.5g) salt

1½ cups (315g) hot water

Instructions

In a large bowl whisk together flour, yeast, and salt.
Stir in hot water with a wooden spoon, until well combined. The dough will be sticky and that's what you want.
Cover the bowl with plastic wrap or a plastic shower cap (a fun bread baking hack) and let it sit at room temperature for 12-18 hours. We are going to do a slow, long rise.
After 12-18 hours the dough should be expanded, puffy, with bubbles.
Preheat your oven to 450F, with a dutch oven inside (with the lid). You need the dutch oven to be nice and hot.
Meanwhile, clean and lightly flour your countertop and form the dough into a ball.
Transfer the dough to a large piece of parchment paper and sprinkle it with a tiny it of flour. Cover it loosely with a clean dish towel, and let rest as the oven preheats.
When the oven is nice and piping hot, carefully remove the dutch oven (with oven mitts). Lift the parchment paper and dough and place it into the hot dutch oven.
Cover with the lid and place back into the oven and bake for 30 mins. After 30 mins, remove the lid from the dutch oven, and bake for another 10-15 mins, until the loaf has browned.
Remove from the dutch oven and wrap in a clean dish towel and allow to cool on a wire cooling rack for at least 15 mins before slicing.